Road Trip Planning Solutions: Hit the Open Road===
Are you craving a sense of adventure and freedom? Look no further than a road trip! The open road offers endless possibilities, allowing you to explore new destinations and create unforgettable memories. However, a successful road trip requires careful planning and organization. In this article, we will guide you through the process of planning your perfect road trip, provide tips and tricks to make your journey even more enjoyable, and highlight the essential items you need for an epic adventure. Get ready to embrace your wanderlust and embark on the road trip of a lifetime!
Planning Your Perfect Road Trip: Tips and Tricks
Choose Your Destination: The first step in planning your road trip is selecting a destination. Consider the places you've always wanted to visit or discover new hidden gems. Research attractions, landmarks, and activities to create an itinerary that suits your interests. Don't be afraid to mix popular tourist spots with off-the-beaten-path adventures.

Map Out Your Route: Once you have chosen your destination, map out your route to ensure a smooth and efficient journey. Use online mapping tools to estimate driving distances and travel times between stops. Consider scenic routes that offer breathtaking views or detours to explore charming towns. Flexibility is key, allowing you to adapt your route as you go.

Budget Wisely: Determine a realistic budget for your road trip, including expenses such as fuel, accommodation, food, and attractions. Research affordable lodging options, pack a cooler with snacks and drinks to minimize dining out costs, and consider purchasing a pass for attractions or national parks to save on entrance fees.

Prepare Your Vehicle: Before hitting the road, ensure your vehicle is in optimal condition to avoid any unexpected breakdowns. Get a thorough inspection, check tire pressure and tread depth, change the oil, and pack a spare tire and necessary tools. Consider joining a roadside assistance program for added peace of mind.

Pack Strategically: Packing efficiently is crucial for a successful road trip. Create a checklist of essential items such as clothing, toiletries, and first aid supplies. Don't forget to bring entertainment for the journey, including music playlists, audiobooks, or podcasts. Maximize space by using packing cubes or vacuum-sealed bags and keep frequently used items easily accessible.

Safety First: Prioritize safety during your road trip by practicing defensive driving, obeying traffic rules, and avoiding distractions. Make sure to buckle up and use child safety seats if traveling with kids. Keep an emergency kit with essentials like a flashlight, extra batteries, and a basic toolset. Familiarize yourself with the route and have a backup plan in case of unforeseen circumstances.

Accommodation Options: Research accommodation options that suit your preferences and budget. Consider camping under the stars, booking cozy bed and breakfasts, or staying in budget-friendly motels. If you prefer flexibility and spontaneity, consider using RVs or camper vans for a unique and adventurous experience.

Capture Memories: Lastly, don't forget to capture the special moments during your road trip. Bring a camera or use your smartphone to document the breathtaking landscapes, interesting people you meet, and unforgettable experiences along the way. Create a travel journal or blog to share your adventure with friends and family.
Explore the World: Unleash Your Wanderlust on a Road Trip
A road trip is the ultimate opportunity to explore the world and fulfill your wanderlust. As you drive through diverse landscapes, you'll witness the beauty of nature, encounter vibrant cultures, and uncover hidden treasures. Whether it's driving along stunning coastal roads, traversing mountain ranges, or discovering quaint towns, a road trip allows you to immerse yourself in the richness of each destination. Embrace spontaneity, venture off the well-trodden path, and let the open road guide you to new horizons. Your road trip will be a transformative journey of self-discovery, leaving you with cherished memories and a renewed sense of wanderlust.
Road Trip Essentials: Everything You Need for an Epic Adventure
To ensure an epic adventure on your road trip, there are a few essential items you shouldn't leave home without:
Navigation Tools: GPS devices or smartphone apps for navigation are indispensable for a road trip. They provide real-time directions, traffic updates, and information on nearby gas stations, restaurants, and attractions.

Comfortable Clothing: Pack versatile and comfortable clothing suitable for various weather conditions. Layering options, including lightweight jackets and sweaters, are essential for unpredictable climates.

Snacks and Drinks: Keep a stash of non-perishable snacks and plenty of water to satisfy hunger and thirst between meals. Healthy options like dried fruit, nuts, and granola bars are ideal for quick energy boosts.

First Aid Kit: Prepare a comprehensive first aid kit with band-aids, antiseptic ointment, pain relievers, and any necessary prescription medications. It's always better to be safe than sorry.

Entertainment: Keep boredom at bay during long drives with entertainment options like books, games, or tablets loaded with movies and TV shows. Engaging audio content, such as podcasts or audiobooks, can also make the journey more enjoyable.

Emergency Supplies: In case of unexpected situations, have a set of emergency supplies on hand. This should include a flashlight, spare batteries, a multi-tool, duct tape, and a portable phone charger.

Travel Documents: Don't forget to bring your driver's license, vehicle registration, insurance documents, and any necessary travel permits. Keep them organized and easily accessible.

Camera and Accessories: Capture the beauty of your road trip with a camera or smartphone, along with spare batteries, memory cards, and a tripod for stunning photographs and videos.
Embrace the Open Road and Start Planning!===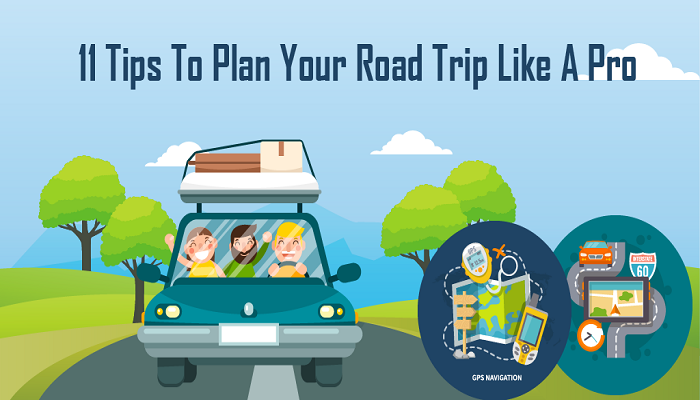 These two services can help you plan Roadtrippers We39ve talked about Roadtrippers before The service uses GoogleMaps based directions to lay out your route and helps you find all the stopsWeve put together this stepbystep guide loaded with tools that39ll tell you everything you need to know when planning a Road trip The open Road is calling your name But before you jump in the car and hit the Road youll need to do a little planning and preparation first Route The first step is the fun one selecting the route To Road Trip Planner Build your itinerary and find the best stops Turn your Road trip into an adventure Find amazing stops along your route What are you looking for Not sure where to go Check out our favorite trips Youre always a short detour from an Extraordinary PlaceFew things in
life measure up to the freedom of the open Road Road trips are for everyoneit doesnt matter whether you travel by RV EV or motorcycle prefer paved Roads or remote trails stay at hotels or campgrounds or go solo or with friends and familyStep 1 Choose your Road trip destination Where will you head A beach the mountains a national park an iconic landmark The whole country is at your fingertips you just need to choosePlan on the go with our free travel app With Wanderlog39s mobile travel planner on Android and iOS access and edit your trips wherever you go even while offline 49 on App Store 47 on Google PlayLine by Line Have a lot of stops Route Planner can optimize your route so you spend less time driving and more time doing Provide up to 26 locations and Route Planner will optimize based
on your preferences to save you time and gas money One address per line 26 max Add another stop Stops Let us reorder stops Round trip Optimize forPremium trip planning with Roadtrippers Plus 2999 value More than 5000 in savings from your favorite brands Save up to 45 on tires for your RV truck and trailer Unlimited access to 15k boondocking locations using OvernightRVParkingcom 2999 value
A road trip provides the perfect blend of adventure, freedom, and discovery. By following these road trip planning solutions, you can ensure a smooth and enjoyable journey. From choosing your destination and mapping out your route to packing strategically and capturing precious memories, each step is an opportunity to create an unforgettable adventure. So, gather your travel companions, ignite the spirit of wanderlust within you, and hit the open road. Your ultimate road trip awaits!